Wolverhampton, Autumn 2012
Dear Frank,
As you know I like England. It's true that it's better to like this country when you decide to live here for the first or second time. Imagine then that after more than two hours of flying and half an hour on the underground you arrive at London's Euston station and on showing your ticket before going on to the platform for Birmingham you must wait until the end of rush-hour. True, you had said to the ticket office man that the price he suggested was a bit steep! When you travel it's not enough to be loaded with luggage but you must gird yourself with patience. You find yourself a spot among the crowd to sit down and you wait in the station whilst noticing that, at the end of the afternoon the travellers who are leaving London have a quicker pace and more tense faces than those coming in, sometimes in front of the station a bit absent-mindedly and scared by the sight of one or another of rodents who, like the trains or the underground lines have their own personnel tunnels.
Best to have your hotel reservation in your pocket, when, once having arrived, late in the evening, in Wolverhampton, north of Birmingham, you find yourself in front of a receptionist who tells you he knows nothing about your arrival. He checks with the owner; finally saying "lt's all right" and asks you to wait ten minutes or so in an unlit office. Half an hour later, during which you heard above the moving of furniture to which you responded with a frenetic drumming of fingers on the table tapping of feet on the floor; this same receptionist shows you into a bedroom whilst making apologies not for the dirtiness of the room but for the defective light bulb. You try to arrange your things a bit but it's difficult to imagine simply putting your stuff in the wardrobes, as the mere passing of a finger across the bottom of a sticky, dirt encrusted drawer dissuades you from putting anything whatsoever inside. Afterwards you go out to find something to eat but it's after eleven pm and everywhere the streets, just like the eating places appear to you deserted, closed and sombre. You end up by going into a take-away with in-your-face decoration and stark, almost blindingly intrusive lighting. Then, you go to bed before the work colleague of the receptionist, citing the faulty light bulb, gets you out of bed to settle you at last in a more presentable room.
Further you must really like this country when the early cold of the month of September and the typical dampness of Great Britain gives you a cold whilst looking for digs and when a few days before you were on a terrace in Bucharest saying your farewells to a colleague. You must resolve to plump for an unfurnished flat as furnished ones are scarce. You spend then some crazy hours in the shops, starting by buying the essentials like a bed or a table then the important like a sofa and little by little all the other bits and pieces like a dirty linen basket that you buy for the first time of your life. As your manager said to you "to buy things is fun". He wasn't wrong, with each purchase your flat becomes more and more your real home, not bad then an unfurnished flat.
You lose yet another Saturday waiting for deliveries which don't come because the delivery men haven't found your address or can't contact you by phone, busy with so many things you hardly thought to adjust your mobile phone. One of these deliveries is put back until tomorrow but the delivery men just as they were getting order out of the lorry, a table still all tied up in a cardboard box, would let it fall flat on the tarmac, without too much damage, happily. The washing machine you ordered later will arrive on the appointed day but the installation asked for did not take place because according to one of the delivery men they didn't have the right to park in your in street and neither he nor his colleague will have the time to install it. Moreover he leaves you no choice but to help him take it up to the first floor and to install it yourself. You don't forget, of course, two days later to ask for the twenty pounds that this planned installation had cost you. You prefer not to dwell on first two machines that you turned on with the dirty water drain pipe askew allowing the waste water from the flat above to pour out all over your kitchen. You had already noticed however you had omitted to let your landlord know. Is that not perhaps unusual, you think! You noted also a "rogue" plug which stopped the machine in mid-cycle. Finally fortunately, all this only cost you time and you can actually install and get working a washing machine. At the end of the day it doesn't seem so tricky to you.
You live right in the centre which is clearly very handy as much for the shops on the doorstep as for public transport. You live modestly, your flat is small, you live in the grey building at the rear of the first floor, with no sight of the street, you have only view of the roof and several red brick facades. It's a sofa bed you have bought as you were thinking of future guests. You don't feel hemmed in, you feel fine. You do without a car, you simply don't need one. Well then, yes, you're happy to be here. You feel even rejuvenated sometimes, as if you'd just drunk a fruit juice with added vitamins. And as far as food goes you like the cereals and tea that this country makes and with some milk and a little orange juice you like to start your day like this before getting into work whilst saluting the cold, wind or rain.
Regarding work precisely, it's boring because it's repetitive rather than difficult or stressful but the conditions are generally good and well yes you still want to settle here. Truth to tell you have invested so much here that it could be difficult to do otherwise. You work in Bilston, your colleagues work there but none of them live there, moreover they miss no opportunity to run down this poor area. One of them had his mobile stolen and another has been attacked. Wikipedia recounts many things also and as if that were not enough this place is infested by rodents a lot of bigger than those seen in London. After the dogs of Bucharest the rats of Bilston are there to remind you of what fear means. However when you see these fat, hairy creatures, gather under a bush you might well have more than a few shivers.
At last, one weekend you take the time to go for a walk. You walk along the "Birmingham Main Line Canal" from Wolverhampton as far as Birmingham. The autumn coolness re-invigorates you. You take photo upon photo and looking at them afterwards you realise they show a walk a lot less dreary than it had appeared. The colours of the sky, with or without cloud are infinitely variable, one bridge can be very different from another, a wall perhaps a wall and nothing more but also the front of a warehouse, of a house or who knows what for a wall which hides nothing is no longer really a wall, the ground perhaps bare like centre court at Wimbledon after the final or conversely luxuriant and unspoilt. All that seems industrial or rustic, dull or pastoral, ordinary or unique but almost always very restful. You're not far from feeling the sensation of a little peace rising from within.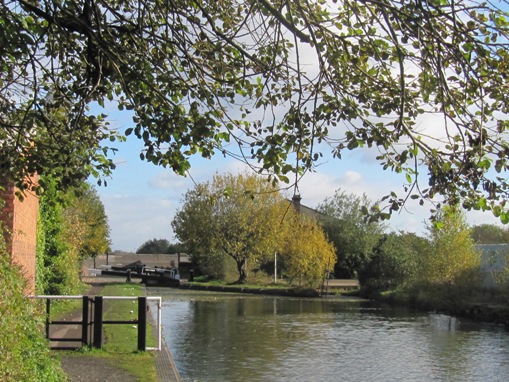 You don't settle in anywhere without leaving some other place. And so must you leave your friends to realize they are such. More than one has asked you for news after your arrival in England. You replied to them. You hope of course to keep some contacts because if Romania has given you a few friends it certainly wasn't bad to live there for a while. There are as well friends you will meet. It's not the first time you've come to live in this country it's the second. Have you come here to re-start your life ? Of course not, it would be an exaggeration to say that. Simply put it's only life and the adventure that follows and it's that, that matters.
I'll be in Belgium at Christmas. Any news ?
Vincent